We are constantly looking for colleagues who want to join us.
Working times;
Flexible working hours depending on the project also on Saturdays and occasionally Sundays. Varying working hours from early in the morning till late in the evening depending on the project.
Shop Handen is looking for people who can work independently with our instruction in the following activities. Experience in similar activities in retail is an absolute pre.
An internal training for all projects is provided by our company.
In all cases we are looking for one-call workers who;
can independently hanging shelves
can independently dismantle or install a shopping system
be representative with a certain flair
are proactive
have affinity with products
be service-oriented and have communicative skills
dare to contact people
are prepared to work weekends, on Saturdays and / or Sundays
being flexible in terms of availability
knowing how to handle, have their Hands on.
Our collaboration;
The call work is based on a zero hour / call contract.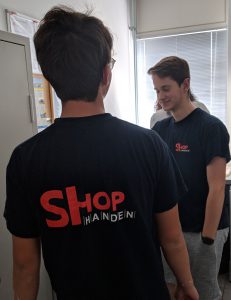 Interested? Please Respond quickly so that we can get to know you and call you;
Send us through the e-mail (info@shop-handen.nl) a full curriculum vitae with your own photo stating ' I want to be called '.